Squirrel Restaurant
Family run business since 1987
Corfu cuisine and local specialties!
Whether you are looking for traditional Corfu cuisine, fish or meat dishes, "Squirrel Restaurant" is highly specialized in them.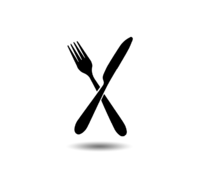 Corfu Specialties
Fresh dishes daily prepared
Porpetes
Homemade beef meatballs seasoned with local herbs, cooked in the oven in tomato sauce with extra virgin olive oil served with chips and rice, or pasta.
Moussaka
Layers of fresh aubergines and potatoes layered with beef minced meat in tomato sauce and covered with creamy bechamel sauce, cooked in the oven.
Sofrito
Beef slowly cooked in wine and garlic sauce, seasoned with rosemary and parsley, served with chips or rice, or pasta.
Pastitsada
Traditional Sunday corfiot dish with rooster, slowly cooked in the casserole in wine tomato sauce seasoned with a mix of herbs and spices, served with pasta.
Lamb Lemonato
Lamb cooked with artichokes, potatoes and carrots in an aromatic fragrance sauce of dill and lemon.
Fish Bianco
Fresh sea bass cooked with potatoes in a flavored lemon sauce with garlic, and seasoned with parsley.
Bourdeto
An old traditional recipe with cod and leeks, in red spicy sauce slowly cooked, seasoned with paprika and chili peppers.
Seafood Pasta
A pasta dish with a variety of seafood, cooked in a sauce based on garlic, ouzo and sprinkled with parsley.
---
ON THE GRILL
Chicken Fillet 9€
Chicken Fillet Souvlaki (2 sticks) 9€
Pork Souvlaki (2 sticks) 9€
Pork Chop 9€
Steak 13€
Homemade Beef Burger 9,5€
Homemade Beef Burger 10,5€
Lamb Chops 12€
Mix Grill - Selection of Meat 14€
Fresh Sea Bream (≈400 gr) 14€
Fresh Salmon 15€
King Prawns (peeled) 14€
---
-We also have a large variety of starters!!!
Our motto "freshness & simplicity!"
The menu features traditional Corfu fare, fresh dishes prepared daily from Gianni & Rula owners of this small restaurant. The secret ingredient? They keep it simple by using only fresh local products and of course their own production of virgin olive oil. The wine list is an interesting selection of Greek wines but they also serve their homemade wine. If you are looking for an experience of the real taste of Corfu cuisine this is the place!
Freshly cooked daily food!
Cooking with passion
Make your reservation now
Monday - Sunday 19:00 p.m - 23:00 p.m


Squirrel Restaurant Corfu
Kato Korakiana, Ipsos, Corfu, Greece, 49083.